MAETEL is a multinational company, operating in more than 15 countries in Europe, America and Asia. Maetel belongs to the industrial division of the ACS Group, a world leader in infrastructure development and operation.
With 20 Years of Experience, we have become a benchmark in different Industrial Sectors, Substations & Power Lines, and in the Energy Sector (solar, wind and biomass), building EPC projects ("turnkey") and performing its Operation and Maintenance, having built more than 1 GW in large-scale Photovoltaic Power Plants throughout the world.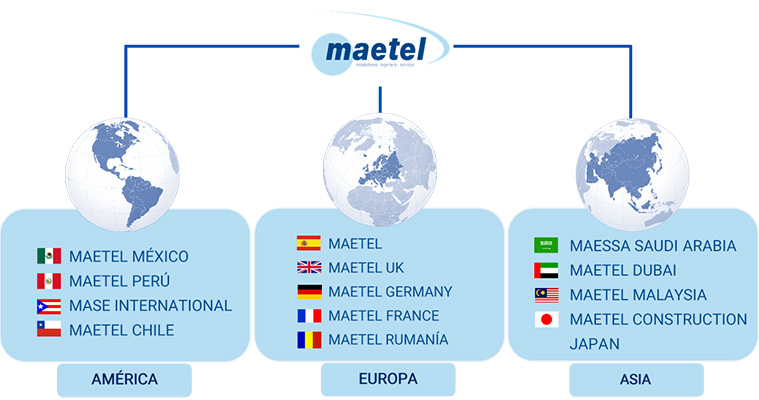 Areas of Activity
In MAETEL we are leaders in Renewable Energies and Industrial Facilities, highlighting our work in EPC Projects ("Turnkey") and Maintenance, besides our commitment to sustainable development.

Main activities that structure MAETEL are Renewable Energies, Substations, Power Lines, Industrial Installations, Maintenance, Instrumentation and Control.
Our Renewable Energy Projects
MAETEL is a global reference in the construction of Renewable Energy Projects (Solar, Wind, Biomass), offering all the guarantees of the full EPC, in addition to the O&M.
To date, MAETEL has constructed more than 1 GW in Photovoltaic Power Projects worldwide as the main Contractor, having constructed more than 400 MW in Japan.